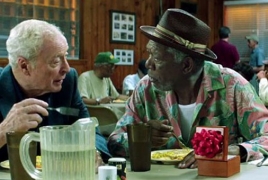 December 17, 2016 - 11:00 AMT
PanARMENIAN.Net - The first trailer for "Going in Style" has been unleashed by Warner Bros. Featuring Oscar winners Morgan Freeman, Michael Caine and Alan Arkin as retirees, the two-and-a-half-minute video shows the trio planning to rob a bank that has absconded their pension funds for retirement, AceShowbiz said.
The trailer sees Joe (Caine) saying, "This bank practically destroyed this country," while having a conversation with Willie (Freeman) and Al (Arkin) in an eatery. "I want to rob that bank," Al responds. Agreeing, Joe says with a big smile on his face, "Let's go get our money back."
"Going in Style" follows Willie, Joe and Al who decide to buck retirement and step off the straight-and-narrow for the first time in their lives when their pension fund becomes a corporate casualty. Desperate to pay the bills and come through for their loved ones, the three risk it all by embarking on a daring bid to knock off the very bank that absconded with their money.
Directed by former "Scrubs" star Zach Braff, the comedy flick is based on Martin Brest's 1979 film of the same name which starred George Burns, Art Carney and Lee Strasberg as the badass aging buddies. Coming to U.S. theaters on April 7, 2017, it's supported by Christopher Lloyd, Joey King, Ann-Margret and Matt Dillon.