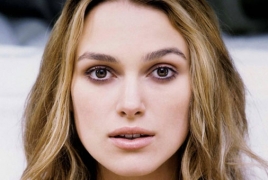 December 19, 2016 - 13:22 AMT
PanARMENIAN.Net - You remember that scene just before the credits in Pirates of the Caribbean: Dead Man's Chest where Captain Hector Barbossa walks down the stairs in Tia Dalma's place, seemingly returned from the dead, bites into his apple and says: "So tell me, what's become of my ship?" It was incredible, and got everyone really hyped for At World's End.
Well it looks like Disney might be hoping to pull off the same trick for the newest film, as rumours say that Keira Knightley will pop at the end of Pirates of the Caribbean: Dead Men Tell No Tales to make us chomp at the bit for Pirates 6, Digital Spy said.
The Mirror reports that Knightley returned for one day to film a scene at Shepperton studios with Jack Sparrow actor Johnny Depp and Will Turner actor Orlando Bloom.
A source allegedly told the publication: "The top-secret one-day shoot took place in November and the set was in lock-down.
"Keira was really excited to reprise the character that made her famous and get into her wigs and costume again.
"Her role will be only make a small return during the end credits to delivering killer lines hinting at a possible bigger part in sixth movie."
These reports are currently unconfirmed, Digital Spy said.
The newest Pirates of the Caribbean film will be released in May 2017.