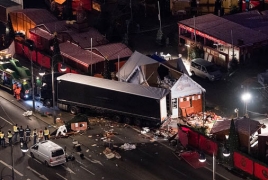 December 20, 2016 - 15:29 AMT
PanARMENIAN.Net - German Chancellor Angela Merkel said Tuesday, December 20 that the deadly truck crash at a Berlin Christmas market was believed to have been a terrorist attack, The Wall Street Journal reports.
She said Monday's attack, in which a black semitrailer plunged into crowd of holiday revelers at the market in front of the Kaiser Wilhelm Memorial Church killing 12 people and injuring 48 others, may have been perpetrated by a migrant who had sought asylum in Germany.
"I know it would be especially hard to bear for all of us if it should be confirmed that the person who committed this act sought protection and asylum in Germany," Merkel told a news conference at the Chancellery in Berlin.
"This would be especially despicable toward the many, many Germans who are daily engaged in helping refugees, and toward the many, many people who truly need this protection and strive to integrate themselves into our country."
Merkel urged Germans not to give in to fear. "We do not want to live paralyzed by fear of evil," she said.
Authorities on Tuesday questioned the sole suspect in a truck assault. The suspect in the truck attack is from Pakistan, a person familiar with the investigation said. The man was born in the 1990s, the person said, noting it wasn't yet clear whether the man entered Germany as a refugee as some German media reported.
The black semitrailer with Polish license plates drove onto the sidewalk at the market at about 8 p.m. on Monday, barreling more than 200 feet, the police said, citing witness reports. They driver fled, the said.
Soon after, police apprehended the suspected driver about a mile away, at the Victory Column in Berlin's sprawling Tiergarten park.