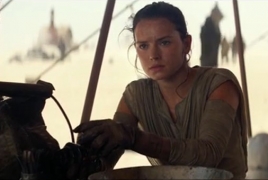 December 22, 2016 - 10:46 AMT
PanARMENIAN.Net - Luke Skywalker had the Ewoks as his alien friends in the original "Star Wars" trilogy. But in "Star Wars Episode VIII", the lone Jedi will likely have a new set of small creatures to accompany him while living on Ahch-To, a hidden planet where Rey found him at the end of "Star Wars: The Force Awakens", AceShowbiz said.
MakingStarWars.net was the first to share the interesting details, saying that Luke actually wasn't alone on the planet. He was said to share it with a number of small creatures which were described as having "razor sharp teeth" and were "a mixture of the terrifying and the adorable. They're sort of like a bird mixed with a Gremlin."
"It was like the 'Star Wars' version of a Furby," the news outlet continued. "But the look and feel is so 'Star Wars'." They're tiny, "maybe 15 inches tall or so," the site described the creatures, who were also said to be the protectors of the planet. Additionally, tiny puppets were spotted on the filming set, as the site noted, "Those who have seen the tiny puppets on set are overjoyed by their presence."
Official plot details are yet to be released as of now. The movie is set for a December 15, 2017 release in U.S. theaters, with Mark Hamill and Daisy Ridley returning as Luke and Rey respectively. Directed by Ryan Johnson, the movie centers on the story of Rey, Finn (John Boyega), Poe Dameron (Oscar Isaac), Luke Skywalker, Leia (Carrie Fisher) and other characters as they fight back the force of the First Order.
Adam Driver, Gwendoline Christie, Domhnall Gleeson, Lupita Nyong'o and Andy Serkis are also back as Kylo Ren, Captain Phasma, General Hux, Maz Kanata and Supreme Leader Snoke respectively. They are joined by Benicio Del Toro, Laura Dern, Warwick Davis and Kelly Marie Tran.