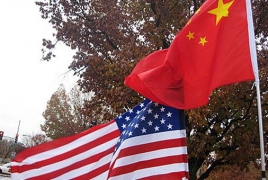 December 22, 2016 - 13:38 AMT
PanARMENIAN.Net - China's foreign minister has warned that ties with the U.S. will likely see new complications and the only way to maintain a stable relationship is by respecting each other's "core interests," The Associated Press reports.
Foreign Minister Wang Yi's remarks appeared to sound another warning that China's position on Taiwan is nonnegotiable, weeks after President-elect Donald Trump suggested that he could re-evaluate U.S. policy on the status of Taiwan.
Wang told the People's Daily Thursday, December 22 he will strive to boost cooperation with the U.S. but foresaw "new, complicated and uncertain factors affecting bilateral relations" under the Trump administration.
China reacted furiously after Trump this month questioned a U.S. policy that since 1979 has recognized Beijing as China's government and maintains only unofficial relations with Taiwan.
Beijing regards the self-governing island as part of China.