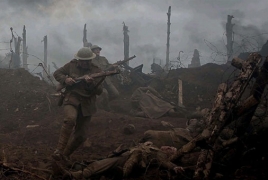 December 22, 2016 - 14:08 AMT
PanARMENIAN.Net - Amazon Studios has released a new teaser trailer for "The Lost City of Z". Featuring Charlie Hunnam as British explorer Percy Fawcett, the over-one-minute video shows him setting off on a journey that may cost his life as the titular place is said to have "terrible diseases, murders" and "savages", AceShowbiz said.
"We must turn back," one of his companions says as they are seen being hunted by a tribe, who is said to practice cannibalism. "There is no turning back," Fawcett responds. "Your soul will never be quite until you find this place. It is your destiny," says the narrator, whose voice is like that of the tribe shown in the teaser.
Based on David Grann's best-selling nonfiction novel, "The Lost City of Z" tells the incredible true story of British explorer Percy Fawcett, who journeys into the Amazon at the dawn of the 20th century and discovers evidence of a previously unknown, advanced civilization that may have once inhabited the region.
Despite being ridiculed by the scientific establishment who regard indigenous populations as "savages," the determined Fawcett returns time and again to his beloved jungle in an attempt to prove his case, culminating in his mysterious disappearance in 1925.
Directed by James Gray, the R-rated movie is coming to U.S. theaters on April 21, 2017. It's supported by Sienna Miller, Tom Holland and Robert Pattinson who portray Fawcett's wife Nina, his son Jack and a fellow expeditionary named Henry Costin respectively.