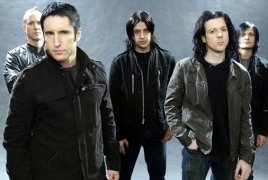 December 22, 2016 - 17:23 AMT
PanARMENIAN.Net - Nine Inch Nails have unveiled a brand new song, 'Burning Bright (Field On Fire)', NME said.
Taken from their upcoming new EP 'Not The Actual Events', the track is a brilliantly brooding and esoteric web of industrial noise, constantly simmering with Reznor's trademark menace, NME said.
After repeatedly teasing that new NIN material would drop by the end of 2016, the 'Not The Actual Events' EP will be released on 23 December.
Meanwhile, Reznor also confirmed that they'd be releasing a limited edition 4xLP vinyl version of the classic 1999 NIN album 'The Fragile', containing 37 bonus tracks.
"The Fragile occupies a very interesting and intimate place in my heart," he said. "I was going through a turbulent time in my life when making it and revisiting it has become a form of therapy for me. As an experiment, I removed all the vocals from the record and found it became a truly changed experience that worked on a different yet compelling level."
Reznor added: "The Fragile: Deviations 1 represents Atticus and I embellishing the original record with a number of tracks from those sessions we didn't use before," he said. "The result paints a complimentary but different picture we wanted to share."
Nine Inch Nails are expected to drop a full new album and announce tour dates for 2017 in the months ahead.
The award-winning soundtrack writer Reznor has also spent much of the last year working on two film scores – one for Leonardo DiCaprio's climate change documentary Between the Flood and Peter Berg's Boston Marathon bombing movie Patriot's Day.