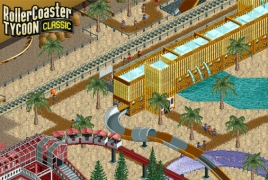 December 22, 2016 - 17:59 AMT
PanARMENIAN.Net - Atari has just released RollerCoaster Tycoon Classic, a "new" game for mobile based on the Atari-produced theme park sims. Classic takes its cues from the original RTC and RTC2, offering a more simple take on park design, construction and management than more recent titles in the series. It's also the first RTC game for mobile that isn't stuffed full of microtransactions. Instead, you pay $6 (£4.50) once and then you own the game, The Verge says.
There are a few in-app purchases. Two content packs -- "Wacky Worlds" and "Time Twister" -- based on the RTC 2 of the same name are available for $1.99 (£1.50) each. There's also a Toolkit that lets you edit scenarios, design rides and so on. It also lets you import / export saved parks with cross-platform support for RTC 2 on PC, but that comes at a price: another $6.
All-told, unlocking everything would cost $16, but unbundling it in this way makes sense given many will have no interest in the Editor or additional content.