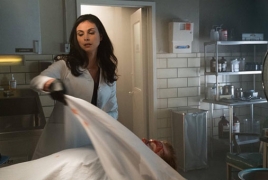 December 24, 2016 - 14:57 AMT
PanARMENIAN.Net - New photos for "Gotham" midseason premiere, which is titled "Ghosts", has been released by FOX. One of the photos features Jerome's (Cameron Monaghan) body, which ends up in the GCPD lab, AceShowbiz said.
The picture shows the top half of Monaghan's face, which reminds us that the Joker's face was cut off, something that Monaghan himself has teased on his Instagram account.
Another photo features Carmine Falcone (John Doman) in the police department. Carmine was confronting Jim Gordon (Benjamin McKenzie) about killing his only son, Mario (James Carpinello), in the midseason finale. Mario died because Jim shot him twice, after Jim found out that Mario was infected by the Tetch virus and was about to stab his new bride, Leslie Thompkins (Morena Baccarin).
There's also an image offering the first look at guest star David Dastmalchian as an unknown character. The actor is known for his role as Thomas Schiff, who came under the "employment" of the Joker, in Batman movie "The Dark Knight".
Another photo shows Jim and Harvey Bullock (Donal Logue) looking uncomfortable as they investigate a case.
Oswald Cobblepot or known as The Penguin (Robin Lord Taylor) looks confused and shocked about something.
In another image, Edward Nygma/Riddler (Cory Michael Smith) is showing an icy glare to the camera.
"Gotham" also stars David Mazouz as Bruce Wayne, Sean Pertwee as Alfred, Erin Richards as Barbara Kean, Camren Bicondova as Selina Kyle/the future Catwoman, Jessica Lucas as Tabitha Galavan, Chris Chalk as Lucius Fox, Drew Powell as Butch Gilzean, Maggie Geha as the future Poison Ivy, Michael Chiklis as Detective Nathaniel Barnes and Benedict Samuel as Mad Hatter.
"Gotham" season 3 returns on Monday, January 16, 2017 at 8 P.M. PT on FOX.