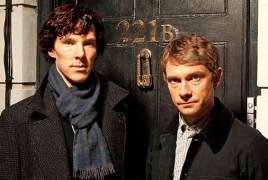 December 29, 2016 - 14:16 AMT
PanARMENIAN.Net - Moriarty haunts Sherlock's latest creepy series four teaser, Digital Spy said.
The unsettling video starts just as a mundane bit of promo for Sherlock on the big screen at London's Piccadilly Circus, but takes a turn when its advert gets defaced with smiley graffiti.
For a brief flash, the face of Sherlock's long-dead enemy Moriarty (Andrew Scott) appears on the big screen as he warns: "Miss me?"
This echoes Sherlock's series three finale, which concluded with the Great Detective returning from his brief exile when Moriarty viral videos popped up all over social media.
That was obviously troubling since Moriarty put a bullet in his head two years earlier when he was outwitted by Sherlock in 'The Reichenbach Fall', Digital Spy.
But is this really the resurrection of Moriarty - or just a trick devised by Sherlock's latest cunning and clearly psychotic nemesis Culverton Smith (Toby Jones)?
Earlier this month, Benedict Cumberbatch promised lingering plot threads will be tied up in ways that prove co-creators Mark Gatiss and Steven Moffat are "remarkably long-term in their planning".
"We're getting pay-offs in this series that are to do with how this began," he teased, with Gatiss adding: "There are certain clues, or plot points or spoilers that we literally never write down in case they get out.
"They're never present in the script, so there's no danger of them being leaked."
Along with a new villain (and the possible return of an old one), Sherlock's fourth series will reveal that John and Mary have indeed had a baby.
"We've had an awful lot of fun over the years workshopping the idea of... what would it be like if Sherlock Holmes were John Watson's best man, or something like that?" Steven Moffat recently told Digital Spy.
"The big one was, well, what would it be like if John had a child, and without being too Three Men and a Baby about it, it obviously changes things.
"But Sherlock is still a scary, dangerous man, John Watson's still an adrenaline junkie, Mary's still an ex-assassin - it's an extraordinary family group that this baby's being introduced to."
Sherlock returns on New Year's Day (Sunday, January 1, 2017) on BBC One.