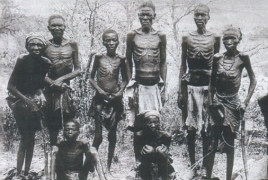 January 9, 2017 - 12:34 AMT
PanARMENIAN.Net - Germany may make payments to Namibia for the killing of 65,000 tribespeople during colonial occupation, an episode that is seen by some as the first genocide of the 20th century, a foreign ministry spokesman said, according to The Times of Israel.
Spokesman Martin Schaefer said the two-year talks with Namibia's government have entered a phase in which both sides are talking "in very concrete terms" about how to treat the events in the future.
"This may include further payments," Schaefer told reporters in Berlin. Germany already provides Namibia significant development aid — totaling some 800 million euros ($850 million) since Namibia gained independence from South African rule in 1990.
"Namibia has a little over 2 million inhabitants and (Germany's) per capita aid is likely a world record," said Schaefer. He said this was partly due to "the special responsibility we feel because of German-Namibian history."
His comments came a day after representatives of the Herero and Nama tribes filed a class-action suit in the United States against the German government, seeking reparations and a place at the negotiating table.
Schaefer says Germany had "good reasons" for not negotiating directly with the tribes. He didn't elaborate.
Previous lawsuits have failed because the crime of genocide was recognized by the United Nations only in 1948, in response to the Holocaust committed by Nazi Germany.
Berlin ruled what was then called South-West Africa as a colony from 1884 to 1915.
Incensed by German settlers stealing their land and cattle and taking their women, the Herero people launched a revolt in January 1904, with warriors butchering 123 German civilians over several days. The Nama tribe joined the uprising in 1905.
The colonial rulers responded ruthlessly and General Lothar von Trotha signed a notorious extermination order against the Hereros.
Rounded up into prison camps, captured Namas and Hereros died from malnutrition and severe weather. Dozens were beheaded after their deaths and their skulls sent to German researchers in Berlin for "scientific" experiments.
Up to 80,000 Hereros lived in Namibia when the uprising began. Afterwards, only 15,000 were left.