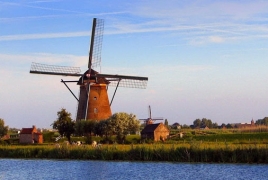 January 12, 2017 - 11:44 AMT
PanARMENIAN.Net - The Netherlands has been harnessing the power of the wind to drain bodies of water, saw timber and to produce oil for centuries. Now, the country is also using it to run all its electric trains, Engadget said.
The Dutch railways network (NS) started using wind energy generated by the turbines owned by electric company Eneco two years ago when they signed a ten-year agreement. They planned to power all of the country's electric trains with wind-generated energy by 2018, but they're clearly a shining example of Dutch efficiency and reached their goal a year earlier than planned.
According to Brightvibes, the country's electric trains shuttle 600,000 people to their destinations in around 5,500 train trips per day. Those trips use up 1.2 billion kWh of energy per year, which can power all households in Amsterdam for the same time period. At this point in time, it takes an hour for a wind turbine to generate enough power to run a train for 120 miles. However, NS is looking for ways to lower their machines' consumption by 35 percent before 2020, so they can go farther for smaller amounts of energy.