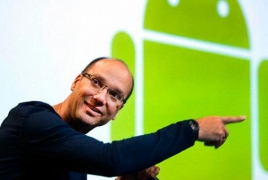 January 14, 2017 - 12:47 AMT
PanARMENIAN.Net - Andy Rubin, creator of the Android operating system, is planning to marry his background in software with artificial intelligence in a risky business: consumer hardware. Armed with about a 40-person team, filled with recruits from Apple Inc. and Alphabet Inc.'s Google, Rubin is preparing to announce a new company called Essential and serve as its Chief Executive Officer, Bloomberg cited people familiar with the matter as saying.
A platform company designed to tie multiple devices together, Essential is working on a suite of consumer hardware products, including ones for the mobile and smart home markets, one of the people said.
The centerpiece of the system is a high-end smartphone with a large edge-to-edge screen that lacks a surrounding bezel. At the Consumer Electronics Show in Las Vegas in early January, Rubin discussed the smartphone with mobile carrier executives, including some from Sprint Corp., people familiar with the talks said.
While still in the prototyping stage, Rubin's phone is aimed at the top of the market where Apple Inc.'s iPhone and Alphabet Inc.'s new Pixel reside. It's expected to include high-end materials and the ability to gain new hardware features over time, the people said. Representatives for Rubin and Sprint declined to comment.
Rubin sold Android to Google in 2005. He spent eight years at its helm at Google, turning the operating system from a tiny project into the globe's most dominant software for running mobile devices. In 2013, he stepped down from Android to form Google's robotics unit before leaving altogether in 2014. Rubin's next venture was a startup incubator called Playground Global, which backs artificial intelligence, robotics, and augmented reality projects.
At least one prototype of Rubin's phone boasts a screen larger than the iPhone 7 Plus's (5.5-inches) but has a smaller overall footprint because of the lack of bezels, one of the people said. The startup is experimenting with enabling the phone's screen to sense different levels of pressure, similar to an iPhone, the person said. Rubin's team is testing an industrial design with metal edges and a back made of ceramic, which is more difficult to manufacture than typical smartphone materials, two of the people said.
Essential's engineers are developing a proprietary connector that serves double duty for charging the battery and expanding the phone's functionality over time, one person familiar with the planning said. The magnetic connector would allow Essential or even third parties to create hardware accessories that add features to the smartphone. For instance, Rubin's engineers are working on a sphere-shaped camera add-on that shoots high-resolution 360 degree photographs, the person said.
Rubin is aiming to put the phone on sale around the middle of this year for a price close to that of an iPhone 7 ($649), a person familiar with the matter said, adding that all of the plans are still in flux. Technology news website The Information earlier reported Rubin was working on a phone.