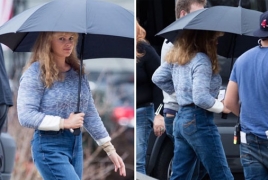 January 17, 2017 - 16:26 AMT
PanARMENIAN.Net - Margot Robbie has got a total makeover for her role as Tonya Harding in upcoming biopic "I, Tonya". First look at the actress as the disgraced figure skater has surfaced on the internet, showing her sporting hair, makeup and even outfit to resemble Harding, AceShowbiz said.
The set photos feature frizzy-haired Robbie in a 1990s look. The "Focus" actress is donning an extra heavy body padding beneath her sloppy blue sweater and high-waisted jeans. By the look of her chubby face, the actress apparently has gained some weight for the role.
Earlier this month, the 26-year-old actress was seen twirling around the ice rink in California to practice her ice skating skills for the movie. She was spotted wearing off-white sweater, black gloves, leggings and white ice skates.
"I, Tonya" centers on the true story of former figure skater Tonya Harding. She and her ex-husband Jeff Gilloly, who is portrayed by Sebastian Stan ("Captain America: The First Avenger"), hired a man to break the leg of Harding's biggest rival Nancy Kerrigan, during 1994 Winter Olympics in Norway. Harding was banned from joining any competition ever since. Meanwhile, Kerrigan managed to recover and take home the silver medal at the event that year.
"I, Tonya" also stars Allison Janney as Lavona Fay Golden (Harding's mother) and Paul Walter Hauser as Shawn Eckhardt. However, Miramax has yet to announce actress who will take the role of Nancy Kerrigan. The biopic is scheduled for a 2018 release. The next Winter Olympic also will be held in PyeongChang, South Korea in the same year.