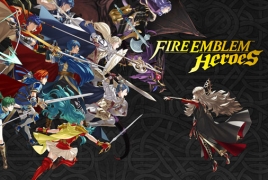 January 19, 2017 - 12:41 AMT
PanARMENIAN.Net - If you've been yearning for a Fire Emblem game to play on the go that isn't relegated to a portable gaming system, maybe the upcoming Fire Emblem Heroes will do the trick. It's a tactical role-playing game (think Final Fantasy Tactics) where "fate has brought two warring kingdoms together in a bitter clash." During Fire Emblem Direct stream, it was announced that you'll battle it out on an 8x6 grid, Engadget said.
You'll also level up familiar characters and fans will "find the battle intensity they've come to expect from the series". It looks like in-app purchases are all but confirmed as summoning orbs -- they call in additional heroes for help during battle -- will be doled out after a fight, or you can buy them with cash. Footage showed a purchase screen with a 35-pack costing $20, with a 3-pack running $1.99, Engadget said.
Pre-registration (alerts for when it'll be released) starts January 19th, with the game itself coming out February 2nd on Android. Folks with iOS devices will have to wait until sometime "soon," Engadget said.