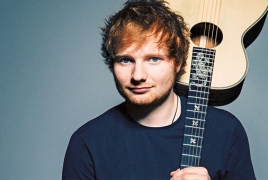 January 20, 2017 - 17:13 AMT
PanARMENIAN.Net - Ed Sheeran has revealed that his next tour will begin in March.
The singer-songwriter said in a Facebook Live interview that he will hit the road again "pretty soon" after he drops new album '÷' on March 3. He also confirmed that a full tour announcement will be coming shortly, NME said.
"I don't know when we're coming with dates but I know we're coming with dates soon," Sheeran said. "I definitely know it starts in March, in Europe."
The artist's last tour ran from 2014-15 and included a trio of sold-out dates at London's 90,000-capacity Wembley Stadium.
Sheeran returned earlier this month after a three-year hiatus with two new songs, 'Shape Of You' and 'Castle On The Hill'. The songs have since broken a chart record by entering at Number One and Number Two in the same week. He then announced new album ''÷', which is pronounced "Divide".
During a recent interview, Sheeran confirmed that he will appear on James Corden's 'Carpool Karaoke' shortly, and said he wants to show off his rap skills when he does.
In interviews he has also revealed the song he wishes he had kept for himself, and delivered an impromptu cover of the Fresh Prince Of Bel-Air theme tune during.