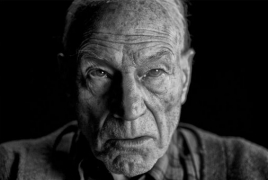 January 20, 2017 - 17:33 AMT
PanARMENIAN.Net - After a long wait, fans are finally able to get a look at "Logan" final trailer. The sneak peek featuring Hugh Jackman, Patrick Stewart and Dafne Keen is heavy with gore, blood and violence it has promised, AceShowbiz said.
The trailer offers a rather deceitful calm atmosphere at the beginning, though. Laura (Keen) is seen in a convenience store, stealing snacks, taking a tube of potato chips, opening it and eating it. She pulls a can from a refrigerator and wearing sunglasses she steals from a rack. When a clerk confronts her, she tries to run, but the man grabs her hand and Laura unexpectedly flips him to the floor. She is about to punch him before Logan comes to her and asks her to stop.
Another scene features Logan and Laura together with the ailing Professor Charles Xavier (Stewart). It's later followed by a series of bloody encounters between Wolverine, Laura and their relentless pursuers. Both Wolverine and Laura are skillful in ripping their opponents' skin with their claws. Elsewhere in the video, Professor X says, "She's like you-very much like you."
"Logan" is set in the near future in 2029. A weary Logan cares for an ailing Professor X in a hide out on the Mexican border. But Logan's attempts to hide from the world and his legacy are up-ended when a young mutant arrives, being pursued by dark forces.
Director James Mangold explains to ComicBook.com about why he chose 2029 as the movie's timeline. "There's an epilogue scene in 'Days of Future Past' which is 2024, or 2023, something like that," says Mangold. "I just wanted to get far enough past. My goal was real simple: it was to pick a time where I had enough elbow room that I was clear of existing entanglements."
Mangold adds, "Part of the way I think this films stop being fresh (these films being franchise comic book movies) is when you find yourself making essentially a television series with $200 million episodes where you're literally just picking up where the last one left off and you're making a mini-series. Then, it's impossible to do something fresh, meaning essentially you're just a director on the 14th episode of a television show picking up where the last one left off and people are going to be really startled by any discontinuity or changes."
"Logan" is set to hit U.S. theaters on March 3.