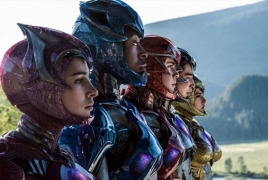 January 20, 2017 - 17:40 AMT
PanARMENIAN.Net - Lionsgate has dropped a full trailer for the "Power Rangers" movie, AceShowbiz said. Sharing some new scenes, the newly released trailer gives the very first look at Bryan Cranston's Zordon as well as the gigantic robot Megazord.
Unlike the classic Zordon which was in a big tube, Zordon in the movie appears on an enormous screen. Based on the brief glimpses in the trailer, it looks like Zordon is able to move his giant face around the main chamber of the spaceship.
Five teens named Jason, Zack, Kimberly, Trini and Billy, who barely know each other, think they're screwed up when they find themselves in a strange and unfamiliar place. After coming back from that place, they become different people than they used to be. They decide to come back to the place, looking for an answer. That marks their first encounter with Zordon who greets them as he says, "The answer to what is happening to you is here." As if a talking wall with a big face on it is not shocking enough, he reveals something even more shocking, "You five are the Power Rangers."
Superhero movies are nothing without villains. The villain of the movie, a pure evil alien named Rita Repulsa, comes down to Earth to destroy everything. That's when they finally embrace their destiny to be the legion of warriors, Power Rangers. With the Megazords, they try to fight and take down Rita Repulsa and her gigantic gold-layered monster. That's because this is their destiny, this is their time.