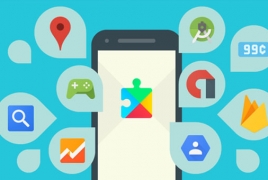 January 24, 2017 - 12:21 AMT
PanARMENIAN.Net - Back at last year's Google I/O conference, the search giant introduced a new concept that the Android team had in the works: Instant Apps. The abbreviated applications would be streamlined enough to start working immediately after users open them with a URL tap, temporarily loading the full software's functionality without going through the rigmarole of a traditional Play Store installation. After half a year, the Android team has opened up a select few Instant Apps to live testing.
But it seems these Instant Apps won't be available for the public to tinker with just yet. Users will get access to them for a limited test to generate feedback for product iteration, Engadget said citing Android's developer blog.
The first few to companies who get to try out Instant Apps include Wish, Periscope, Viki and Buzzfeed -- the latter of which seems the only one still onboard from the original lineup presented at Google I/O, as VentureBeat points out. That means we might not see electronics megastore B&H's Instant App yet, which released the demo below at the conference, Engadget said.
From the Android team's blog post, other interested developers probably won't be able to join this early access period, though they can apply here for the SDK's wider release in the "coming months." They'll need to prepare their app beforehand, trimming it down for modular on-the-fly installation and complying with some Android 6.0 permissions. Hopefully then we'll begin see a streamlined end to lengthy and data-crunching app store install processes, as Google foretold in its first Instant Apps presentation, Engadget said.