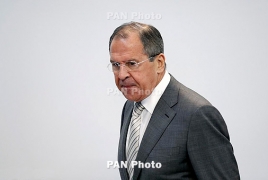 January 26, 2017 - 12:54 AMT
PanARMENIAN.Net - The Foreign Minister of Russia is planning to meet with representatives of the Syrian opposition in Moscow on Friday, January 27, Kurdistan 24 reports.
Sergey Lavrov confirmed the meeting following peace talks in Astana, Kazakhstan.
During the peace talks, Russia, Turkey, and Iran agreed to form a trilateral mechanism to monitor and guarantee the complete fulfillment of a ceasefire in Syria.
Meanwhile, the Syrian opposition expressed dissatisfaction at the outcome of the peace talks.
Moreover, following the peace talks, opposition delegate Osama Abu Zaid told the press the group had made proposals to Russia regarding the enforcement of the ceasefire.
"The opposition delegation is working hard to consolidate the ceasefire as the primary focus of the talks," an anonymous source added.
The opposition did not reveal the details of the trilateral mechanism or why they rejected the agreement.
According to the group's spokesperson, the delegation met with the guarantors and a UN team led by Staffan de Mistura to focus on "maintenance of the ceasefire agreement."