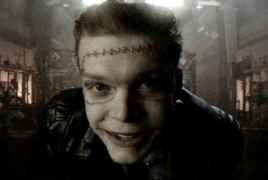 January 26, 2017 - 15:00 AMT
PanARMENIAN.Net - A new trailer for an upcoming episode of "Gotham" season 3 has been released. The video offers glimpses of Jerome Valeska (Cameron Monaghan), who's seemingly turning into the famous Clown Prince of Crime, Joker, AceShowbiz said.
Now that he is officially back from the dead, Jerome is wasting no time in causing all the chaos for the citizens of Gotham City. Meanwhile, James Gordon (Benjamin McKenzie) and the GCPD are busy looking for the maniac after Jerome set a bomb in the city.
Jerome then calls out to Bruce Wayne (David Mazouz) while stalking around a mirror-maze, showing his most accurate Joker impression so far. Moreover, he's seen saying one of Joker's classic lines as he tells Bruce, "Let's turm that frown upside down," right before he paints Bruce's face.
The big tease is shown at the end of the trailer. Bruce is seen beating the crap out of the criminal clown. Based on the trailer, it seems like the spirit of Batman is going to be born in the upcoming episode of the series.
"Gotham" returns with a new episode titled "Mad City: The Gentle Art of Making Enemies" on Monday, January 30 at 8 P.M. ET on FOX.