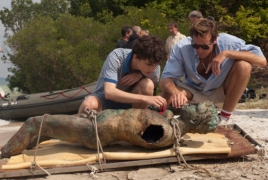 January 26, 2017 - 15:13 AMT
PanARMENIAN.Net - The Berlin Film Festival's Panorama section has completed its lineup with the addition of 24 feature films, including "Call Me by Your Name", an extremely well-reviewed gay love story featuring actor Armie Hammer, Variety said.
The full Panorama program includes 36 world, six international and nine European premieres. Thirteen European films have been added. Among those is "Call Me by Your Name," directed by Luca Guadagnino ("A Bigger Splash") from an adaptation, co-written with James Ivory, of a novel by André Aciman.
There are five films from Brazil, including "Como Nossos Pais" (Just Like Our Parents), directed by Lais Bodanzky, who depicts the everyday lives of three generations in Sao Paulo as "a pyrotechnic display of individual passions and existential delusions staged with a sublime naturalness," according to the festival.
Also in the program are Spanish debut feature "Pieles" (Skins) by Eduardo Casanova, "Rekvijem za gospodju J." (Requiem for Mrs. J.) by Serbia's Bojan Vuletić, Ferenc Török's "1945" from Hungary, and "God's Own Country," Francis Lee's feature-film debut from the U.K.
Teona Mitevska returns with a bitter depiction of Macedonian adolescents trying to get their bearings in "When the Day Had No Name." Also returning to Panorama are Norwegians Ole Giæver, with the "emancipatory and philosophical self-examination" "Fra balkongen" (From the Balcony), and Erik Poppe with "Kongens Nei" (The King's Choice), which deals with the Norwegian king's resistance to the German armed forces in World War II.
The Belgian-French-Lebanese co-production "Insyriated" by Philippe Van Leeuw is an intense chamber drama featuring Hiam Abbass as a woman trapped in the family's apartment while a war rages outside. "Kaygi" (Inflame) by Ceylan Özgün Özçelik tells the story of the roll-out of censorship of the press in Turkey and its effect on the work of a young female journalist. And finally there is Georgian director Rezo Gigineishvili's "Hostages," in which a longing for freedom and independence escalates into a readiness to use violence for young Soviet citizens during an airplane hijacking set in 1983.
Germany is represented by Jakob Lass' "Tiger Girl," in which a "strong friendship develops between two women, one in which conventional value systems begin to unravel, in what amounts to a veritable moral portrait of the underbelly of today's German republic."
Three films focus on the hordes of young people drawn to Berlin: the psycho-thriller "Berlin Syndrome" by Australian director Cate Shortland (which screened at Sundance), the feminist fairy-tale "The Misandrists" by Berlinale regular Bruce LaBruce, and science-fiction pic "Fluidø," by Taiwanese-American artist Shu Lea Cheang.
U.S. director Travis Mathews, a "chronographer of a gay Western modernity," is showing his second film in Panorama, "Discreet." "An eerie soundscape floats atop his often elliptically edited story, which revolves around a man approaching middle age who gets caught up in the darker depths of his past."
The original style of Moroccan filmmaker Hicham Lasri was apparent at Panorama in 2015 in "The Sea is Behind," and on display again last year in "Starve Your Dog." Now he returns for the third time with "Headbang Lullaby," a "visually stunning psychedelic fairy-tale swimming in vibrant color and full of absurd situations, which also takes a long socially critical look at the history of Lasri's native Morocco."
Three arthouse films from China shed some light on the complex upheavals afoot in the country. The films show how "establishing alternatives for oneself within authoritarian systems is a great step towards individual freedom," the festival stated.
In "Bing Lang Xue" (The Taste of Betel Nut), "we experience the whirlwind of young love on a resort island," while in "Ghost in the Mountains" and "Ciao Ciao," "we bask in the breathtaking landscapes of the Chinese highlands."
In his New Zealand film "One Thousand Ropes," Samoan director Tusi Tamasese creates "mythic images full of tension and concentration to relate the story of Maea, the baker and male midwife with healing hands, whose personal demons play an integral role in his everyday life."