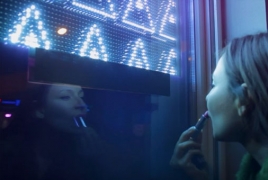 January 26, 2017 - 15:27 AMT
PanARMENIAN.Net - Ahead of the Berlinale European Film Market, Maren Kroymann's Berlin-based M-Appeal has acquired international sales rights to three new Berlin fest-selected titles: "Discreet", "Inflame" and "Millennials". All are world premieres, Variety said.
Focusing on new voices from independent and world cinema, and with a strong line in LGBT art films, M-Appeal also handles sales on young adult drama "Center of My World." Seen at the Palm Springs Festival and directed by Jakob M. Erwa, who recently won a best upcoming director prize at the Bavarian Film Awards, "Centre of the World" has been licensed by M-Appeal to the U.K.'s Matchbox. "Centre of My World" is included in the Berlinale's Deutscher Filmpreis screenings of films nominated for Germany's national Lola Awards. It competes in the best picture category.
Sporting the Berlinale's hallmark contemporary focus, the three M-Appeal pickups focus on key social issues roiling modern-day world: homophobia in the U.S.; collective historical amnesia in Turkey; and the stresses affecting now not-so-young millennials. Confirmed in the Panorama section Wednesday, "Discreet" marks the latest narrative feature from Travis Mathews, a filmmaker who has carved out a career offering alt-arthouse vision of queer masculinity and unsimulated gay sex. It comes after his docu-fiction, "Interior, Leather Bar," made in collaboration with James Franco, broke out at the 2013 Sundance Festival before playing Berlin and sparked a gamut of reactions.
"Discreet" turns on a drifter who, traumatized in his youth, returns to his hometown to confront his past. The title refers to Mathews' experience as he drove around central Texas in the summer of 2015 and turned on Grindr and Hornet.
"What fascinated me most were the profiles labeled discreet and the men hiding behind black boxes in lieu of faces or even anonymous torsos," he said in a statement.
Matthew calls "Discreet" a "nightmare warning to what discretion – in its many forms – might bring." He added: "Crystallizing with the U.S. presidential election, it became clear that the monster built from years of fear-mongering was no longer under anyone's control."
Also confirmed for Panorama, and part of a highly select Turkish presence at Berlin this year – just "Inflame" and two Talent Project Market entries – "Inflame" marks the feature debut of TV film critic-turned-filmmaker Ceylon Özgün Özçelik. A psychological thriller, it centers on a woman who suffers recurring nightmares of working on a TV news channel and living alone in a flat left to her by her musician parents who died in a car crash 20 years earlier. But the nightmares are really memories and her parents may still be alive and kicking.
According to Özçelik, "Inflame" talks about "the limits of oblivion" in a country where "reality and hallucinations bounce off each other" and turns in the end on "collective memory," a resonant subject in Turkey.
Screening in Perspective Deutsches Kino, which describes it as a "documentary-style, big-city tale," "Millennials" describes two members of the generation: Anne, a successful film director wanting to become a mother, and Leo, a photographer yearning for more professional recognition. A film school feature, it is directed by Jana Burgeon for the Filmakademie Baden-Wurttemberg.
M-Appeal will host a Berlinale party on Feb. 12.