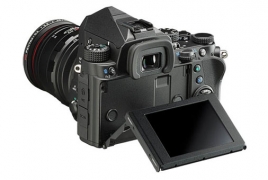 January 26, 2017 - 17:35 AMT
PanARMENIAN.Net - Pentax has released the KP, weatherproof, compact DSLR with five-axis body stabilization, extreme low-light-sensitivity and a pretty off-beat design. The standout feature is a ridiculously high 819,000 ISO, a setting that would let you shoot with almost no light. That puts it ahead of every other camera, except perhaps Sony's Alpha A7II S. In fact, the Pentax KP, like most other cameras nowadays, likely uses a new Sony sensor -- so don't be surprised to see other new APS-C models with that kind of capability soon, Engadget said.
The Pentax KP is also the Ricoh-owned company's first APS-C camera with five-axis body stabilization (borrowed from the full-frame K-1) bringing it up to par with Sony, Fujifilm and other rivals. As with other Pentax models, it uses "pixel shift resolution," giving you more resolution and color accuracy as long as your subject doesn't move around much.
Other features include a 3-inch, vertical-tilt screen, AA-filter-free design, a removable and replaceable grip via an Allen key and customizable buttons. The new body is dustproof and weather resistant, with a very compact design that's smaller and lighter than the K-3. Apparently some weight was sacrificed for the battery, though, as it can only do 390 shots compared to 560 for the K-3.
There are a few things still holding the camera back for consideration by serious shooters, unfortunately. Unlike contemporary models from Sony, Nikon and others, it doesn't shoot 4K video, settling for a tepid 1080, 30p max setting. It's also got the same, older 27-point autofocus system of the K-3 (giving it 7fps shooting), which doesn't come close to matching newer Sony and Olympus mirrorless models. It's also saddled with an old USB 2.0 port and weirdly, has no HDMI port, forcing you to buy a dongle instead. Finally, and this is subjective of course, it's got a pretty homely design compared to drop-dead beautiful models like Fujifilm's new X-T20 and X-100F, Engadet said.
Still, it might be a hit for Pentax fans looking for very low-light capability. Though the top 819,000 ISO setting is probably very noisy, dialing it down to a lower, but still very high setting should produce usable shots. The KP is scheduled to ship on February 23rd for $1,099 in the US and £1099 in the UK.