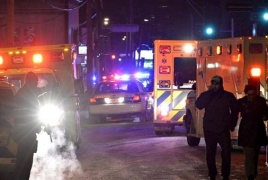 February 1, 2017 - 10:54 AMT
PanARMENIAN.Net - Alexandre Bissonnette cut a low profile as a shy, withdrawn political science student, keen on far-right ideas. Now, he stands accused of gunning down six worshippers at a Quebec mosque in one of the worst attacks ever to target Muslims in a western country.
The 27-year old grew up in a quiet suburb of Quebec City, posting online about friends, family and food, AFP says.
He studied anthropology and political science at nearby Laval University, and most recently lived in a fourth-floor apartment with his twin brother that neighbors described as often noisy.
The apartment is one kilometer (0.6 miles) from the Sainte-Foy mosque where Bissonnette allegedly shot worshippers in the back.
His Facebook account has since been deleted, but an analysis of stored pages by SITE Intelligence Group -- a US-based organization that monitors extremists' activities -- described his posts as "largely apolitical."
"It is a cruelly banal profile that resembles many others and it is extremely difficult to perceive the evolution," David Morin, co-director of the Observatory on Radicalization and Violent Extremism, told AFP.
Bissonnette went to classes at Laval University, read the essays of French poet Charles Baudelaire, and worked part-time at the province's blood collection agency. It has expressed alarm over learning that one of its employees was suspected in the mosque shooting.
Although Bissonnette was not affiliated with any group, he appears to have embraced a "right-wing, a bit reactionary, somewhat anti-immigrant, anti-feminist ideology," said Morin.
He espoused positions taken by US President Donald Trump, French National Front leader Marine Le Pen, and a Quebec group that rejects multiculturalism.
SITE Intelligence Group noted that on his Facebook page, "There were no posts about Al-Qaeda, the Islamic State (ISIS), or Muslims, nor were there any posts related to immigration."
But he "liked" the pages of Le Pen, Trump and Quebec's Generation Nationale.