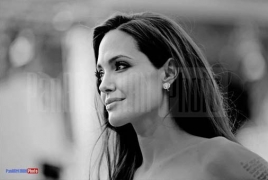 February 3, 2017 - 16:39 AMT
PanARMENIAN.Net - Angelina Jolie is back with her latest work after her recent divorce woes with Brad Pitt. She appears in a video to promote her latest directorial effort, "First They Killed My Father: A Daughter of Cambodia Remembers", which will be released on Netflix, AceShowbiz reports.
The film is based on a Cambodian genocide memoir of Cambodian human rights activist as well as Jolie's friend, Loung Ung. It tells the story of the massacre in Cambodia by the Khmer Rouge communist party between 1975-1979. The purge killed more than two million people out of seven million population, including Ung's parents and two sisters.
"The heart of it is Loung's story, it's the story of war through the eyes of a child, but it is also the story of a country," Jolie explains in the video. Loung Ung, who also serves as screenwriter of the film, adds, "[The movie is] for the country. What Angie's doing is an amazing gift."
Jolie insists on using their native Khmer as the language spoken throughout the movie and using only Cambodian actors, who are the genocide survivors and their children. They all came together in 2015 to recreate their history for the film.
Producer Rithy Panh says, "In order to mourn we must speak. It's the possibility of using creation to reconstruct ourselves. Telling a story is also mourning, it's also moving on." He adds, "It goes further than a film actually because what we are trying to do, it's kind of a bridge between our former selves and tomorrow's generation."
The "Mr and Mrs Smith" actress once revealed that it was her first child, Maddox, who convinced her and Ung to eventually make this movie. "He was the one who just called it and said he was ready and that he wanted to work on it, which he did. He read the script, helped with notes, and was in the production meetings," the actress said to The Guardian.
"First They Killed My Father: A Daughter of Cambodia Remembers" will hold the world premiere in Siem Reap, Cambodia on February 18 and will be released globally later this year via Netflix.