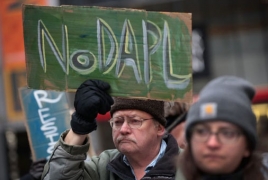 February 8, 2017 - 12:21 AMT
PanARMENIAN.Net - U.S. authorities said Tuesday, February 7 they will approve a permit to complete the controversial Dakota Access pipeline to reduce transportation costs and give U.S. producers a boost as they compete against oil from Canada, AFP reports.
The decision comes after months of protests by Native Americans and their supporters led the Obama administration to nix plans to build the pipeline close to native grounds.
But President Donald Trump supported the 1,172-mile (1,886-kilometer) oil pipeline, which would snake through four U.S. states, and ordered officials to reconsider.
The Army Corps of Engineers, which has approval authority, said Tuesday that it had "completed a presidential-directed review" and planned to grant permission for the pipeline to cross government land at the Missouri River and man-made Lake Oahe reservoir -- the final sticking point, which will effectively allow the last stretch of the pipeline to be completed.
The reservoir is the drinking water source for the Standing Rock Sioux Tribe, which objects to the pipeline's routes.
The tribe vowed to challenge The Army's decision in court, and called on supporters to head to Washington on March 10 for "a Native Nations march."
"We ask that our allies join us in demanding that Congress demand a fair and accurate process," tribe chairman Dave Archambault said in a statement.
"Our fight is no longer at the North Dakota site itself. Our fight is with Congress and the Trump administration."
The Dakota Access pipeline would connect the Bakken and Three Forks oil production areas in North Dakota to an existing crude oil terminal near Pakota, Illinois.
In addition to the risk to its water, the Standing Rock Sioux Tribe had also claimed the project endangered areas with sacred historic sites and artifacts.
Additionally, it claimed that it was not appropriately consulted during the process, and that a proper environmental review was required.
Energy Transfer Partners, the pipeline's operator, has denied the tribe's claims, saying the pipeline is safer than the current transport methods of rail and truck, and that archeological experts it hired had failed to find sacred artifacts along the pipeline route.