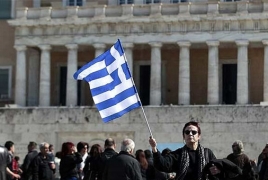 February 11, 2017 - 15:37 AMT
PanARMENIAN.Net - Greek authorities on Saturday, February 11 began evacuating some 70,000 people in the city of Thessaloniki ahead of an operation to defuse a bomb from World War II, AFP reports.
The bomb, containing nearly 250 kilograms (550 pounds) of explosives, was unearthed in the northern city during road works last week and is due to be defused on Sunday.
More than 300 disabled people and bedbound patients were set to be the first evacuated on Saturday using 20 ambulances, authorities from Greece's second city said.
The full evacuation of all residents within a 1.9-kilometre (1.1-mile) radius of the bomb site, affecting three working-class neighbourhoods around west of the city-centre, is due to be completed before 0800 GMT on Sunday.
Evacuation is "obligatory", regional security chief Apostolos Tzitzikostas told reporters Friday.
The operation is unprecedented in Greece, "where a bomb of this size has never been found in an area this densely populated," Tzitzikostas added.
Regional authorities said the entire operation would take up to eight hours, but local military spokesman Colonel Nikos Phanios was more cautious.
"We don't know what we're going to find," he told AFP. Defusing the bomb and then moving it to a military shooting range "could take us up to two days", he added.
It is not yet known which side in the war dropped the bomb or when it fell, Phanios said.
A thousand police officers have been mobilised for the operation, with residents given several days' warning via the media, leaflets and posts on social networks.
Thessaloniki residents were facing disruption on the bus and train networks, with facilities set up to host evacuees in need of shelter.
People living in a nearby refugee camp will also have to be evacuated, the migration ministry said, without specifying the number affected. At their request, the refugees will use the evacuation as an opportunity to visit the local archaeology museum, the ministry added.
Seven decades after the end of World War II, unexploded bombs from the conflict are still being found around the globe.
On January 23 dozens of people were evacuated after a bomb was found near a Hong Kong university, while three days before that Britain's navy disposed of a suspected World War II bomb found close to the parliament in London.
In the German city of Augsburg, 54,000 people had an unwelcome Christmas surprise on December 25 when they had to leave their homes while authorities dealt with a bomb dropped by Britain during the war.