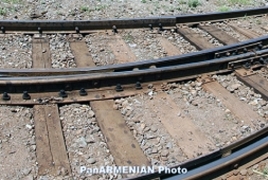 February 11, 2017 - 17:16 AMT
PanARMENIAN.Net - A freight train derailed Friday, February 10 afternoon near Elk Grove in Sacramento County, California, U.S., sending 22 train cars into the Cosumnes River near Highway 99, according to the Cosumnes Fire Department.
KCRA reports that the Union Pacific train was headed from Tracy to Roseville when it derailed about 12:45 p.m. near Dillard Road.
Three people were on board the train, but no one was injured.
"Absolutely apologize for the disruption; but again, thankfully there were no injuries, no hazardous material involved and so, we'll get this cleaned up as quick as possible," the Union Pacific Railroad spokesman Justin Jacobs said.
The train was carrying food products. A hazmat crew was originally called to the scene as a precaution, but that crew had left.
Near the train derailment is a levee break, but it is unclear if that caused the derailment. The cause of the derailment is under investigation.
Union Pacific has been doing inspections in this area because of the recent inclement weather.
"They inspect the rail to ensure that everything is as it's supposed to be. Safe for the trains to travel down." Jacobs said. "What happened in this incident will come out in the investigation."
The investigation has been halted for the night because of rising water and a lack of sunlight. Cleanup and repairs will resume in the morning.
Union Pacific said 20-30 trains use this line per day, including Amtrak. Trains will be rerouted until the lines are reopened.