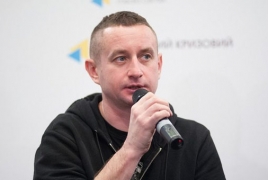 February 11, 2017 - 17:30 AMT
PanARMENIAN.Net - A noted Ukrainian poet and novelist says he was seized by security agents in the middle of the night while visiting the capital of Belarus and ordered to leave the country, The Associated Press reports.
In a posting on a social media website, Serhiy Zhadan said Saturday, February 11 that police confronted him in his hotel room in Minsk about 2 a.m.
"Nothing was explained ... I had to spend the night in a cell," he wrote. He said he was later informed by the country's security agency, the KGB, that he was not allowed to be in Belarus because Russia in 2015 banned him for alleged participation in terrorist activities.
Belarus and Russia share a visa regime.
Zhadan's work, which critics have compared to that of William Burroughs and Beat writers, criticizes post-Soviet society.
Several days ago, Belarus extradited Russian-Israeli blogger Alexander Lapshin to Azerbaijan as he had visited Nagorno Karabakh and written posts critical of Azerbaijani authorities.
Lapshin, 40, divides his time between Israel and a few other places. He was arrested on December 15 in Minsk, the capital of Belarus, at the request of Azeri authorities who demanded his extradition. The arrest was made one day after Prime Minister Benjamin Netanyahu visited Baku, the capital of Azerbaijan.
Lapshin was arrested following his visits to Karabakh as well as due to critical posts in his Russian-language blog against Azerbaijani President Ilham Aliyev.