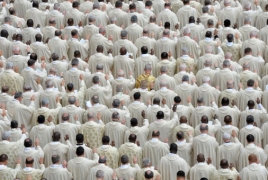 February 16, 2017 - 10:22 AMT
PanARMENIAN.Net - Australia's Catholic Church has paid A$276 million ($213 million) in compensation to thousands of child abuse victims since 1980, a government inquiry heard on Thursday, February 16 -- the first time the total compensation paid by the church's schools, orphanages and residences has been revealed, Reuters reports.
A report at a royal commission into institutional abuse said 3,066 victims had received some form of compensation from a Catholic body in the 35 years to 2015.
Cash payments of A$258.8 million amounted to an average A$91,000 per person. Some compensation was in non-cash payments.
The institution which paid the most was global order the Christian Brothers, which paid A$45.5 million to 763 people, averaging A$61,000 per person. The Jesuits paid the most per complainant, at A$257,000 each, on average.
The average time between a person experiencing abuse and filing a complaint was 33 years, state prosecutor Gail Furness said in the report, adding that "many survivors face barriers which deter them from reporting abuse to authorities and to the institution in which the abuse occurred".
The royal commission, Australia's highest most powerful type of inquiry which can compel witnesses and recommend prosecutions, has previously heard that seven percent of priests working in Australia between 1950 and 2010 were accused of child sex crimes, but few were pursued.
The report was based on analysis of data kept by Catholic Church authorities.
The royal commission has been roundly praised by victim advocates as the most comprehensive public inquiry into child abuse. It is due to report back to the government in December.
Last year, Australia's most senior Catholic, Cardinal George Pell, said the church had made "enormous mistakes" and "catastrophic" choices by refusing to believe abused children, shuffling abusive priests from parish to parish and over-relying on counseling of priests to solve the problem.
Victim advocates on Thursday said the wide range in compensation by 1,049 Catholic institutions meant management of abuse compensation should be handled by the government.
"There's been so much variance in how the processes have been conducted, what offers have been made, it shows me that we need a consistent system such as the national redress scheme to actually make this just for survivors," said Helen Last, Chief Executive Officer of In Good Faith Foundation Ltd, which represents 460 abuse victims.
"It's a picture of great unfairness and inequity between survivors across Australia depending on where they placed their claim."
The national government has said it will start a A$4.3 billion redress scheme for victims in 2018, but some victim groups have complained the scheme will work on an "opt in" basis, meaning it cannot force organizations to cooperate.
A spokesman for Social Services Minister Christian Porter, who is overseeing the compensation scheme, declined to comment on the royal commission but said an advisory council had started work setting up the scheme.