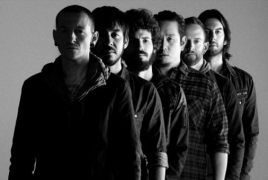 February 17, 2017 - 12:00 AMT
PanARMENIAN.Net - Linkin Park made a surprise comeback as they released a new single titled "Heavy" featuring rising star Kiiara on Thursday, February 16. The pop-friendly track will be featured on the band's upcoming album "One More Light", which is slated to hit the shelves on May 19, AceShowbiz said.
On the nearly-three-minute track, Kiiara trades verses with the band's frontman Chester Bennington over swirling synths and rapt percussion. Chester talks about dealing with paranoia and mental health issues on his verse, singing, "I don't like my mind right now/ Stacking up problems that are so unnecessary/ Wish that I could slow things down/ I wanna let go but there's comfort in the panic."
Meanwhile, elsewhere on the song, the "Gold" songstress tries to keep going on through the hardest stage in life. "I'm holding on/ Why is everything so heavy?/ Holding on/ So much more than I can carry," she sings. "I keep dragging around what's bringing me down/ If I just let go, I'd be set free/ Holding on/ Why is everything so heavy?"
Linkin Park and Kiiara debuted "Heavy" with a stripped-down version performance on Facebook Live. During the stream, the band also performed "Crawling" and "Burned It Down" and discussed writing and recording "One More Light".
Speaking to Billboard about the upcoming album, the band's guitarist Mike Shinoda hinted that "Heavy" reflected much of the tone of the new record. "One of the reasons why we chose 'Heavy' as the first single is because it is really the core sound of the album," he said. "This wasn't a scenario where the whole album sounds one way and the single sounds different. This is how the album sounds."
"One More Light" marks the band's seventh studio album, following their 2014 effort "The Hunting Party". The new set features 10 tracks in total and is available for pre-order on CD and vinyl via the band's website.