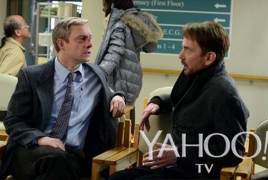 February 23, 2017 - 13:09 AMT
PanARMENIAN.Net - FX has announced a return date for "Fargo". The third season of the crime drama anthology series is set to premiere Wednesday, April 19 at 10 P.M., which means there are only two months left before we get to see the new murder mystery involving two brothers, played by Ewan McGregor, AceShowbiz said.
The new season is set in 2010. McGregor plays a dual role, Emmit Stussy, the Parking Lot King of Minnesota, and his begrudgingly less successful brother, Ray. Forever living in his more successful brother's shadow, Ray is a balding and pot-bellied parole officer with a huge chip on his shoulder about the hand he's been dealt - and he blames his brother. Their sibling rivalry follows a twisted path that begins with petty theft but soon leads to murder, mobsters and cut-throat competitive bridge.
Carrie Coon stars as Gloria Burgle, the steady chief of the local police department. A newly divorced mother, Gloria is trying to understand the new world around her, where people connect more intimately with their phones than with the people around them. Mary Elizabeth Winstead stars as Ray's girlfriend, Nikki Swango, a crafty and alluring recent parolee with a passion for competitive bridge. David Thewlis stars as V.M. Vargas, a mysterious loner and true capitalist whose bosses plan to partner with Emmit, whether The Parking Lot King likes it or not.
Taking the supporting roles are Jim Gaffigan as Gloria's deputy, Scoot McNairy as a pothead who lives a life of crime, Shea Whigham as Meeker County's Chief of Police named Moe Dammick, Michael Stuhlbarg as Emmit's trusted advisor, and Thomas Mann as an acclaimed science-fiction writer.
Production is still underway in Calgary, with creator/showrunner Noah Hawley serving as writer and director for the third season. He also exec produces along with Joel & Ethan Coen, the writers and directors of the original film, as well as Warren Littlefield and John Cameron.