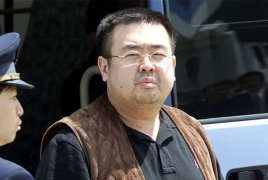 February 23, 2017 - 13:27 AMT
PanARMENIAN.Net - North Korea denied Thursday, February 23 that its agents masterminded the assassination of the half brother of leader Kim Jong Un, saying a Malaysian investigation into the death of one of its nationals is full of "holes and contradictions," The Associated Press reports.
The North's response came a day after Malaysian police said they were seeking two more North Koreans, including the second secretary of North Korea's embassy in Kuala Lumpur, in connection with the February 13 killing of Kim Jong Nam at a Malaysian airport.
Malaysia police have not directly pinpointed North Korea as being behind the death of Kim Jong Nam, but have already arrested a North Korean man working at a Malaysian company along with three other Southeast Asian people. They are searching for several more North Koreans.
The Korean Jurists Committee, a legal body affiliated with North Korea's rubber-stamp parliament, said in a statement Thursday that the Malaysian investigation lacks fairness and was influenced by the South Korean government, which blames Pyongyang for the death.
The North has not acknowledged that the dead man is Kim Jong Nam. Thursday's statement described the man only as a North Korean citizen bearing a diplomatic passport.
It said that South Korea had "kicked up a fuss" and had plotted to have North Korea blamed for the killing.
"The biggest responsibility for his death rests with the government of Malaysia as the citizen of the DPRK died in its land," the statement said. The DPRK refers to the Democratic People's Republic of North Korea, the country's official name.
Malaysian police said Wednesday that the two women suspected of fatally poisoning Kim Jong Nam were trained to coat their hands with toxic chemicals and then wipe them on his face.
Police say the substance used remains unknown, but it was potent enough to kill Kim before he could make it to a hospital. Inspector-General of Police Khalid Abu Bakar told reporters that the women, one Vietnamese and the other Indonesian, knew they were handling poisonous materials and "were warned to take precautions." The women and a Malaysian man, believed to be the boyfriend of the Indonesian woman, have been arrested.
Surveillance video showed both women keeping their hands away from their bodies after the attack, he said, then going to restrooms to wash. Those details are not clear in video obtained by media outlets.
But the North Korean Embassy in Kuala Lumpur has already ridiculed the police account and demanded the immediate release of the two "innocent women."