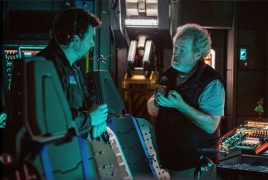 February 23, 2017 - 13:48 AMT
PanARMENIAN.Net - "To the Covenant!"
So says the crew of the, presumably doomed, ship that is the focus of Ridley Scott's latest chapter in the Alien franchise. Fox dropped a prologue trailer for Alien: Covenant on Wednesday night, February 22 and in it we see the final few moments of joy before the crew enter cryosleep, The Hollywood Reporter said.
The trailer, that clocks in just under five minutes, gives us our first detailed look at the crew members, including the captain played by James Franco, the chief pilot played by Danny McBride as well as other crew members Billy Crudup, Demián Bichir and of course the android played by Michael Fassbender (named Walter in Covenant).
We see McBride rekindle his frosty on-screen relationship with Franco (as seen previously in the comedies Pineapple Express and This Is the End) as well as some hints at the tensions and strains between certain crew members.
Covenant is a direct sequel to 2012's Prometheus and the second of the prequel series to the Alien franchise.
Alien: Covenant hits theaters on May 19.