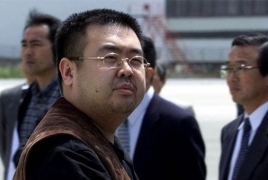 February 23, 2017 - 18:57 AMT
PanARMENIAN.Net - Malaysia has requested Interpol to put an alert out to apprehend four North Korean suspects in the murder of the estranged half brother of North Korean leader Kim Jong Un, Malaysia's police chief said on Thursday, February 23, according to Reuters.
Kim Jong Nam, who was killed in Kuala Lumpur's main airport on February 13, had spoken out publicly in the past against his family's dynastic control of the isolated, nuclear-armed state.
South Korean and U.S. officials say he was assassinated by North Korean agents. North Korea has not acknowledged his death.
Speaking to reporters on Thursday, Malaysian police chief Khalid Abu Bakar said the two women - one Vietnamese, one Indonesian - arrested last week had been paid for carrying out the fatal assault on Kim Jong Nam using a fast-acting poison.
He declined to say if they had been used by a foreign intelligence agency.
Police are also holding one North Korean man, but are seeking another seven in connection with the murder.
Hyon Kwang Song, a second secretary at the North Korean embassy in Kuala Lumpur, and Kim Uk Il, an employee of state-owned airline Air Koryo, are among three North Koreans wanted for questioning who are still believed to be in Malaysia.
Khalid told reporters that a request had been made to Interpol to put out an alert to apprehend the other four, who are believed to have made their way back to North Korea, having fled Malaysia on the day of the killing..
Khalid said a police request has been sent to the North Korean embassy requesting to interview the diplomat and airline employee.
"If you have nothing to hide, you should not be afraid to cooperate, you should cooperate," Khalid said.