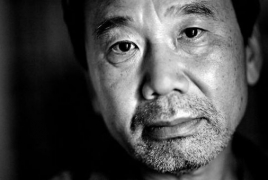 February 23, 2017 - 17:51 AMT
PanARMENIAN.Net - Die-hard fans of Haruki Murakami, the Japanese author perennially pegged as a contender for the Nobel literature prize, will flock to bookstores Thursday night, February 23 when his new novel hits shelves, AFP reports.
Major bookstores are hosting late-night events and staying open through the early hours to celebrate the release at midnight (1500 GMT) of the hotly anticipated "Killing Commendatore".
Translated into some 40 languages, Murakami's books conjure up a fantastical world where giant frogs challenge salarymen in battle and mackerel rain down from the sky.
For years, international media, scholars and bookies have listed the 68-year-old as a favorite for the Nobel, though the coveted prize has so far eluded him.
Publisher Shinchosha has already printed a combined 1.3 million copies of the two-volume Japanese-language work in anticipation of brisk sales. No timetable for translations has been announced yet.
Details of the novel have been kept under wraps, with anticipation mounting among Murakami's devotees, known as "Harukists".
Public broadcaster NHK was set to air a programme two hours before the book's release to discuss "the Haruki Murakami phenomenon".
"The excitement of eager fans, the Harukists, is reaching a fevered pitch as they engage in guesswork about the book they have yet to see," NHK said on its web site.
Murakami became a global sensation with the publication of "Norwegian Wood" in 1987 and has written several bestsellers including "1Q84" and "Kafka on the Shore".
He is known to guard his privacy, rarely appearing in public, and has acquired a cult following for his intricately crafted tales of the absurdity and loneliness of modern life.
The novelist peppers his work with references to pop culture.
His enormous global popularity has led some at home to deride his work as being too cerebral and influenced by Western authors.