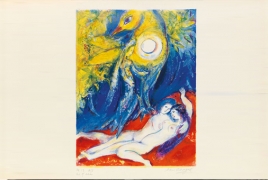 February 23, 2017 - 18:38 AMT
PanARMENIAN.Net - Swann Auction Galleries will offer a landmark series of lithographs by Marc Chagall in their 19th & 20th Century Prints & Drawings auction on March 2, Art Daily reports.
Created to illustrate 'The Arabian Nights' for Pantheon Books in 1948, the 13 images were Chagall's first colour lithographs and won the Graphic Prize at the Venice Biennale of that year.
Between them, they illustrate four of the tales: 'The Ebony Horse', 'Julnar the Sea-Born and her Son King Badr Basim of Persia', 'Abdullah the Fisherman and Abdullah the Merman', and 'Kamar Al-Zaman and the Jeweller's Wife'.
The recurring theme of the tales and the lithographs is one of love, loss and reunion, and it is thought that the artist was influenced by the loss of his wife, Bella Rosenfeld, who had died in 1944.
The series is considered to be among the best examples of lithography from the first half of the 20th century.
The regular edition (limited to 90) includes only 12 lithographs, but this set – the publisher's own – is one of only 11 copies produced of the deluxe portfolio, which also features the bird standing over the king and Scheherazade (pictured above). This makes it extremely rare, an attribute reflected in its estimate of $250,000 to $350,000.