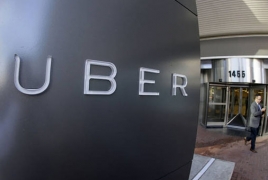 February 24, 2017 - 12:10 AMT
PanARMENIAN.Net - The race to develop self-driving vehicles took a new turn on Thursday, February 23 when Google's parent company Alphabet filed a lawsuit against Uber, accusing it of stealing technology, AFP says.
Alphabet contends that a manager at its autonomous car subsidiary Waymo took technical data with him when he left to launch a competing venture that went on to become Otto, Uber's self-driving vehicle unit, in a reported $680 million deal.
"Otto and Uber have taken Waymo's intellectual property so that they could avoid incurring the risk, time and expense of independently developing their own technology," Waymo said in a San Francisco federal court filing.
Waymo is calling for a trial to stop Otto and Uber from using what it says is patented technology.
Waymo also wants unspecified damages in what it described in court documents as "an action for trade secret misappropriation, patent infringement, and unfair competition."
The company argued that a "calculated theft" of its technology "reportedly netted Otto employees over half a billion dollars and allowed Uber to revive a stalled program, all at Waymo's expense."
Responding to an AFP request for comment, an Uber spokeswoman said in an email that "we take the allegations made against Otto and Uber employees seriously and we will review this matter carefully."
The California-based ride-sharing service acquired the commercial transport-focused tech startup Otto last year as it pressed ahead with its pursuit of self-driving technology.
Anthony Levandowski, a co-founder of Otto, a 90-person startup, was put in charge of Uber's efforts to develop self-driving technology for personal driving, delivery and trucking.