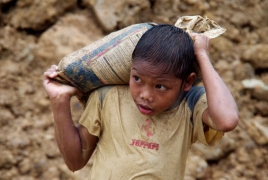 March 1, 2017 - 14:56 AMT
PanARMENIAN.Net - The United Nations has warned that large numbers of children are still risking their lives to make the dangerous journey from Libya to Italy, BBC News reports.
Unicef says almost 26,000 children - most of them unaccompanied - crossed the Mediterranean last year.
In its new report, Unicef says many children suffer from violence and sexual abuse at the hands of smugglers and traffickers.
But they rarely report their abuse, for fear of arrest and deportation.
The agency also says there is a lack of food, water and medical care in Libya's detention centres.
The plight of children, many of them unaccompanied by parents, has become a tragically familiar part of the wider story of mass migration over the past two years.
But while much has been said about the extreme dangers faced at sea, the privations experienced on land, especially in Libya, are less familiar.
Unicef's latest report, A Deadly Journey for Children, documents - in sometimes horrific detail - stories of slavery, violence and sexual abuse experienced by huge numbers of vulnerable children making their perilous way to Italy.