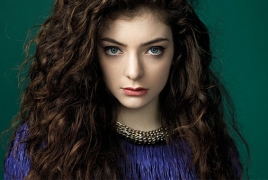 March 1, 2017 - 19:04 AMT
PanARMENIAN.Net - Lorde has continued to tease the release of new material by staging three public displays in Auckland in her native New Zealand – giving a teaser of a new track believed to be called 'Green Light', NME reveals.
The artist is expected to her release her new album on Friday (March 3), which will serve as the long-awaited follow-up to her 2013 debut 'Heroine'.
After teasing new music with the release of an advert last week, Lorde has today (March 1) further stepped up preparations for the new album by staging three separate public displays in the New Zealand city.
Taking to her social media channels, the 20-year-old announced that she'd organised "a few little glimpses at what's coming" before directing fans to a map of central Auckland which pinpointed three separate locations: Herne Bay, Ponsonby and Auckland town hall.
Fans who showed up to the three locations have since posted on social media to report the contents of each display. At Ponsonby, a beat-up car decked in green light and emitting smoke could be found, while the words "I do my makeup in someone else's car" displayed on one of the windows.
Lorde's mother, Sonja Yelich, and sister Indy were present at the Ponsonby display, with her mother refusing to comment to reporters regarding what would come next – only disclosing that she was "excited."
At the Town Hall, meanwhile, the words "green light" were projected on a wall that itself was decked in green light. A short video also displayed two dates: '3.2.17 NYC' and '3.3.17 NZ', while a five-second clip from what seems to be a new song also plays.
Despite some fans turning up at Herne Bay, Lorde later tweeted that she'd sent fans to the wrong location.
At the new location, drones were spotted while a sign reading "She thinks you love the beach, you're such a damn liar" could also be found.
Back in November, Lorde shared an emotional message on Facebook discussing her coming of age, her past, and her future.
"I'm not a kid any more, and more and more I'm realizing that the weirdness of those Mylar balloons is going to be okay," she wrote. "Writing 'Pure Heroine' was my way of enshrining our teenage glory, putting it up in lights forever so that part of me never dies, and this record – well, this one is about what comes next."