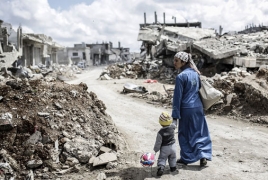 March 1, 2017 - 19:10 AMT
PanARMENIAN.Net - Both sides in the battle for Aleppo committed war crimes, including Syrian government aircraft that "deliberately" bombed and strafed a humanitarian convoy, killing 14 aid workers and halting relief operations, UN investigators said on Wednesday, March 1, according to Reuters.
Syrian and Russian forces conducted "daily air strikes" on rebel-held eastern Aleppo between July and its fall on December 22, killing hundreds and destroying hospitals, they said in their latest report.
Cluster munitions were "pervasively used" and air-dropped into densely-populated areas, it said, amounting to the war crime of indiscriminate attacks.
But investigators could not say whether both Syrian and Russian forces had used them in Aleppo or only one had. They also did not attribute any specific war crime investigated to Russian forces.
"Throughout the period under review, the skies over Aleppo city and its environs were jointly controlled by Syrian and Russian air forces ... (They) use predominantly the same aircraft and weapons, thus rendering attribution impossible in many cases," the report said.
The UN Commission of Inquiry's report - released as Syrian peace talks continue in Geneva - covers the July-December period and is based on 291 interviews with victims and witnesses, as well as analysis of forensic evidence and satellite imagery.
Syrian helicopters unleashed toxic chlorine bombs "throughout 2016" on Aleppo, a banned weapon that caused hundreds of civilian casualties there, the report said.
At least 5,000 pro-government forces also encircled eastern Aleppo in a "surrender or starve" tactic, it said.
Opposition groups shelled government-controlled western Aleppo, killing and injuring dozens, the report said. They prevented civilians from fleeing eastern Aleppo, using them as "human shields", and attacked the residential Kurdish district of Sheikh Maqsoud, both war crimes.
The U.S.-led coalition did not conduct any offensive air missions over Aleppo in the second half of the year, they said.