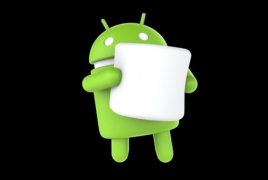 March 3, 2017 - 11:29 AMT
PanARMENIAN.Net - It's here: native support for Google Assistant officially started rolling out to Android phones running Marshmallow or Nougat on Thursday, February 28, Engadget said.
As Engadget noted earlier in the week, Google's conversational digital assistant no longer needs a Pixel phone or the Allo app to work, but you may need to check your phone's specs before you get access.
Users will need to be running Android M or N on a phone with Google Play services and at least 1.5GB of RAM and a 720p screen to get Assistant's new features. The rollout will also be staggered so that English language users in the US will see it show up first, followed by another wave of rollouts to Canadians and Australians. German users will also get the service in their native tongue, but other languages aren't expected until "the coming year." While the LG G6 gets to claim the title of first non-Google device to ship with Assistant, we can expect other manufacturers with recently released devices to start touting the new bonus feature soon, Engadget said.