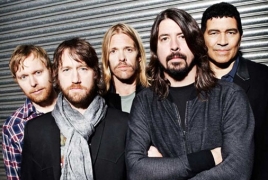 March 4, 2017 - 15:40 AMT
PanARMENIAN.Net - Foo Fighters' guitarist Chris Shiflett has spoken out about the band's hopes for Glastonbury 2017, as well as revealing that progress is slow on their new album, NME said.
Shiflett, who is gearing up to release his new solo album 'West Coast Town' on 14 April, spoke to NME in the wake of them being announced to headline Glastonbury 2017 – marking the reveal with an intimate, secret show at nearby Frome in Somerset.
"It was great, the show was really fun," he told NME. When asked about what it was like to visit the Worthy Farm site, he said: "You get an interesting sense of the size of Glastonbury because it's completely empty. I can't wait to see what it looks like full of people and we're there to compare it."
He continued: "Can you believe that I've never been to Glastonbury – ever? It's like the one festival that I've still never been to, so I'm looking forward to it. I've never had the Glastonbury experience."
At the Frome gig last week, frontman Dave Grohl claimed that the band had requested to be able to play an extra-long three hour set. Responding to the claims, Shiflett said: "Absolutely we could, you never know!"
Ahead of their upcoming tour dates, the Foos are believed to be spending most of 2017 recording their new album.
"I don't know what our plans are, but we'll make a new album when the time is right," said Shiflett of their next record. "There will be a new Foo Fighters at some point."
Last year drummer Taylor Hawkins told NME: "We will make a new record at some point. We won't really be ready until Dave's ready to go. It's on the books, so we'll definitely be playing. We never really know, we just wait for a text from Dave saying 'hey, let's go down to the studio."
Glastonbury 2017 will run from June 21-25. So far, Radiohead are the only other officially confirmed act for the festival, while Wiley has confirmed himself for the festival and The Avalanches have also leaked that they would be performing. Country icon Kris Kristofferson also looks set to play. Rumoured acts include Ed Sheeran and Depeche Mode.
Last month, Glastonbury organisers Michael and Emily Eavis told NME that they'd booked 'twice as many bands for 2017' and they'd be introducing the new area of a new 'drive-in cinema'.