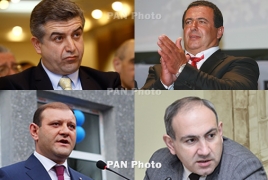 March 9, 2017 - 14:11 AMT
PanARMENIAN.Net - A month before elections to the Armenian National Assembly, chances of leading parties in electoral rating (Tsarukyan bloc and the Republican Party of Armenia) are almost equal, a new poll suggests.
The survey involving residents of Armenia on the socio-political situation in the country ahead of the upcoming parliamentary elections was conducted by the Russian Public Opinion Research Center.
Leading the electoral party rating is Tsarukyan bloc(26%), followed by the Republican Party of Armenia (19%).
In the upcoming elections, however, Armenians will not vote for parties, but rather, candidates by electoral districts in a ranked system of voting.
If party ratings are calculated based on support for candidates in each district, chances of leading parties level out: 25% for Tsarukyan bloc and 23% for RPA.
Three parties are balancing on the verge of election threshold (5% for parties and 7% for blocs) - YELQ bloc, the Armenian Revolutionary Federation and the Armenian Renaissance party.
The Republican Party's chances increase with its promise to retain the post of prime minister Karen Karapetyan, who enjoys a rather high level of popular support (77%). Another powerful "moving force" for the party is the mayor of Yerevan, Taron Margaryan (60% trust him).
The electoral potential of Tsarukyan bloc is conditioned by a high level of confidence in Gagik Tsarukyan (87%), the founder and former leader of Prosperous Armenia party.
Also, MP Nikol Pashinyan (56%) successfully pushes YELQ bloc forward.
On the eve of elections in Armenia, a high level of discontent with the state of affairs in the country (78%) is recorded, every second (51%) citizen citing deterioration of the overall situation in recent years.
The poll was conducted in Armenia on February 22-26, 2017 at the request of Shant-TV, with a total of 1600 respondents interviewed.
Parliamentary elections will be held on April 2. Nine blocs and parties participate overall.