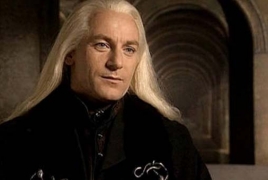 March 9, 2017 - 16:28 AMT
PanARMENIAN.Net - Jason Isaacs joins "Star Trek: Discovery". The actor known for his role as Lucius Malfoy in "Harry Potter" movie franchise has landed a key role on the upcoming CBS All Access series. He is expected to play Captain Lorca who helms Starship Discovery, AceShowbiz said.
The new TV show is also supported by the likes of Michelle Yeoh as the Starfleet captain Georgiou, Doug Jones as Starfleet science officer Lt. Saru, Anthony Rapp as astromycologist Lt. Stamets and James Frain as Spock's father.
The first "Star Trek" series since "Star Trek: Enterprise" ended in 2005, the show was originally scheduled to debut in January, but it's now reportedly pushed back to Summer/Fall season. The plot is still scarce, but it is allegedly set years before the events of the original series and is separate from the timeline of the rebooted film franchise that stars Chris Pine, Zachary Quinto and Zoe Saldana.