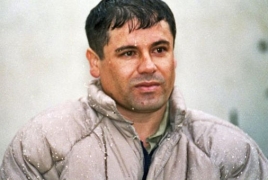 March 9, 2017 - 17:32 AMT
PanARMENIAN.Net - As he was in real life, Mexican drug lord El Chapo is proving to be a wanted man.
Sony is picking up the rights to Hunting El Chapo: The Thrilling Inside Story of the American Lawman Who Captures the World's Most-Wanted Drug Lord, an upcoming book by Cole Merrell and Douglas Century, The Hollywood Reporter reveals.
3 Arts Entertainment will produce the adaptation.
Joaquín "El Chapo" Guzmán is the Sinoloa drug cartel boss who, in addition to being one of the most powerful crime lords of all time, had a knack for escaping his prisons. Three times he made headlines with his escapes, prompting massive manhunts. He was last recaptured in 2016 and extradited to the U.S. in January.
The project will compete with Fox's thriller, The Cartel, which adapted Don Winslow's novel that was a fictional take on El Chapo, with Ridley Scott attached to helm.
Sony is hoping to bag a similarly big-name director, with Michael Bay at the top of the studio's list of most wanted.
Hunting El Chapo is due to hit shelves Oct. 17.
3 Arts was involved in the producing of Bay's Benghazi movie 13 Hours as well as the Angelina Jolie-directed drama Unbroken.