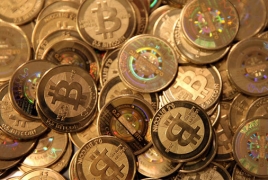 March 11, 2017 - 11:41 AMT
PanARMENIAN.Net - The US Securities and Exchange Commission has denied a bid to list a bitcoin-tied exchange-traded fund (ETF), citing the risk of fraud and a lack of regulation among the world's bitcoin markets, Coindesk reports.
The decision caps a more than three-year quest by bitcoin investors Cameron and Tyler Winklevoss, who first sought to list the bitcoin-tied product in mid-2013. The SEC has been weighing a proposed rule change that would pave the way for the ETF to be listed on the Bats BZX Exchange.
In that time, the SEC has solicited numerous public comments and punted its decision forward several times. As well, the ETF's backers have expanded the scope of the offering from an initial $20m to $100m.
According to a publicly distributed notice detailing the decision, the SEC said:
"As discussed further below, the Commission is disapproving this proposed rule change because it does not find the proposal to be consistent with Section 6(b)(5) of the Exchange Act, which requires, among other things, that the rules of a national securities exchange be designed to prevent fraudulent and manipulative acts and practices and to protect investors and the public interest."
The agency went on to specify that it believes a mix of regulatory opaqueness and fraud risk should preclude any kind of bitcoin ETF at this time.
The SEC said:
"The Commission believes that, in order to meet this standard, an exchange that lists and trades shares of commodity-trust exchange-traded products ("ETPs") must, in addition to other applicable requirements, satisfy two requirements that are dispositive in this matter. First, the exchange must have surveillance-sharing agreements with significant markets for trading the underlying commodity or derivatives on that commodity. And second, those markets must be regulated."
That said, the SEC left the door open to future exchange products tied to the digital currency.
"The Commission notes that bitcoin is still in the relatively early stages of its development and that, over time, regulated bitcoin-related markets of significant size may develop," the document reads. "Should such markets develop, the Commission could consider whether a bitcoin ETP would, based on the facts and circumstances then presented, be consistent with the requirements of the Exchange Act."