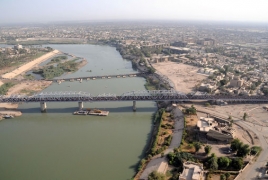 March 13, 2017 - 14:02 AMT
PanARMENIAN.Net - Iraqi forces recaptured a third of west Mosul and trapped Islamic State group fighters inside as they made further gains in their battle to retake the city, officials said Sunday, March 12, according to AFP.
Fierce fighting has shaken Mosul in recent days as thousands of US-backed Iraqi soldiers and police battle to reclaim the country's second city.
A renewed push against the jihadists launched on March 5 has seen IS forced from several neighbourhoods and key sites, including the main local government headquarters and the famed Mosul museum.
By Sunday, Iraqi forces were tightening the noose.
IS "is trapped. Just last night, the 9th Iraqi army division... cut off the last road out of Mosul," said Brett McGurk, the US envoy to the anti-IS coalition.
"Any of the fighters who are left in Mosul, they're going to die there," he said. "We are very committed to not just defeating them in Mosul, but making sure these guys cannot escape."
Staff Major General Maan al-Saadi of the elite Counter-Terrorism Service said "more than a third" of west Mosul was now under the control of security forces.
Saadi said CTS forces were battling IS inside Mosul al-Jadida and Al-Aghawat on Sunday, and Iraq's Joint Operations Command said they recaptured the latter area later in the day.
The JOC also said forces from the Rapid Response Division, another special forces unit, and the federal police were also attacking the Bab al-Toub area on the edge of Mosul's Old City.