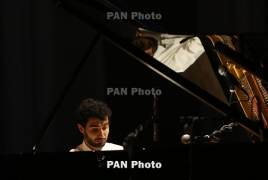 March 13, 2017 - 15:53 AMT
PanARMENIAN.Net - The Huffington Post has published a feature story about prominent Armenian jazz musician and composer Tigran Hamasyan, lauding him as "the best jazz pianist you've never heard."
"The pianist/keyboardist/sometime vocalist is one of jazz's most dynamic artists who flies under the radar of most jazz aficionados. They don't know what they're missing. His potent jazz improvisation fuses with the rich folkloric music of his native Armenia. The soon-to-be 30-year-old piano virtuoso drives with groove power. Tigran's latest adventurous project is this year's An Ancient Observer, his second solo album, his eighth overall as a sole leader, and his sophomore recording for Nonesuch Records. He'll be performing solo piano music from that recording at Subculture," The Post says.
An Ancient Observer is a collection of new original compositions written over the course of the last three to four years—two of which are based on Armenian melodies. Some of the pieces are through composed and completely written out while others are through composed but with ample space for Hamasyan to improvise. Many include vocals layered into the mix.
"Like most of his recordings, the influences of the music are manifold, ranging from classical Baroque dance to J-Dilla-esque hip-hop grooves adapted to piano to a few tracks with pedals connected to a synthesizer—though the Armenian influence, which makes his music so uniquely outstanding, is prominent. Tigran's fresh sound is marked by an exploration of time signatures beyond 4/4 into 5/4 and 9/8, charged dynamics, the shifting between acoustic and electric modes of expression, all undergirded by an affinity to the grind of heavy metal," the article says.
An Ancient Observer is yet another chapter of Tigran's recordings that tap the deep music well of his country. "When I was 13, I began to understand the rich culture of Armenia," he says. "I thought, it's in my blood. I grew up with this incredible music without realizing it. Slowly I began to listen more to the folk music, and it shocked me how much it had been completely ignored. The more tunes I learned—listening to recordings from the Armenian Folk Radio channel—the more I saw the rich potential for merging those with improvised music. That started me on a lifetime journey."
So far, Hamasyan's career has been impressive, including several significant accolades. He won the top piano award at the 2013 Montreux Jazz Festival and the grand prize at the 2006 Thelonious Monk Jazz Piano Competition. In 2015, the musician garnered the prestigious Paul Acket Award at the North Sea Jazz Festival and the following year earned the Echo Award (the German Grammy) for best international piano album of the year for his superb Nonesuch debut recording Mockroot. Hamasyan has toured internationally for a fan bass that ranges from adventurous jazz aficionados to progressive hardcore metal listeners.